---
Ohio River - Saint Marys, West Virginia and Newport, Ohio, USA
All photos by Ralph Trepal. Please do not reuse without permission. Mr. Trepal sent these photos of the 1971 demolition of the Saint Marys Bridge and writes: "I was the resident engineer for the demolition of the bridge. The demolition proved difficult from an engineering standpoint because, unlike most suspension bridges, about half of the stiffening truss top chord was the eye bar chain. Analysis of the bridge during demolition defied our computer tools at the time. We could do elastic analysis and we could do suspension bridge analysis but we couldn't integrate them into one structure. When we tried an elastic analysis, the tension in the eye bar chain ended up in the bottom chord which we knew was not correct. Therefore, we did not have good data on how the bridge would react during demolition and, until we removed most of the bridge deck weight the bridge reacted suddenly to cutting the tension members. Standing on a bridge that drops about four feet and imagining what might happen next is a memorable experience."

"Because of the conditions of the banks we used a small crane on the West Virginia side to remove the structure. On the Ohio side we were over land and able to drop everything to the ground. The center span was removed using a crane on a barge."

"The eye-bar chain was cut with explosives but we wanted to keep the tower on the West Virginia side out of the water so that it would be easier to cut up and remove. Again, I did not have the computer tools at the time to predict its behavior so I did a lot of hand calculations to determine dynamic response of cutting the cable and the necessary strength of a restraint at the base of the tower to keep it on the pier. Everything behaved just as we predicted."

"Prior to demolition many professionals were skeptical if the bridge would really function as a true eye bar chain. When the bridge was down I was able to examine the pins in the eye bars. They were all shiny; they had been moving and working which was essentially the shortcoming of the technology that encouraged the cracking of the eye bar at the pin."
"[This photo] is the West Virginia side back span and shows the bridge during demolition."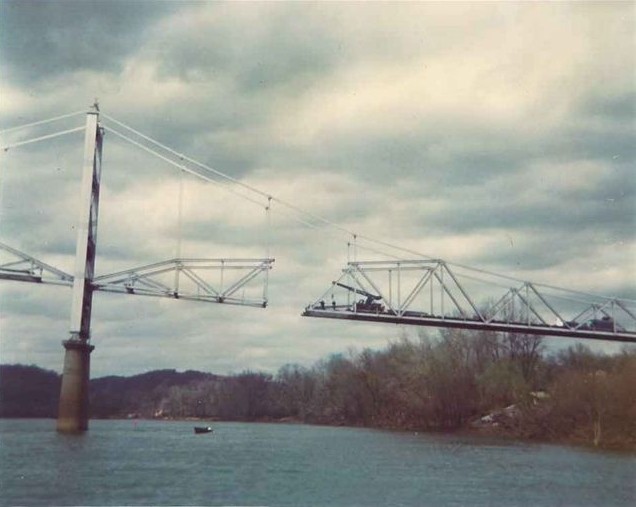 "[This photo] illustrates the displacement of the stiffening truss when we cut a tension member, definitely an un-nerving experience."
"[This photo] is of us dropping a floor beam on the Ohio side when we were over land."